You need to be willing to make new friends to grow your business!
"If you don't talk to anyone you are not going to build your business "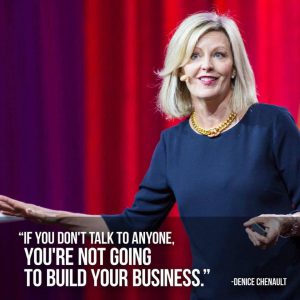 How many people thought that if they joined their company that they could put a few Facebook posts up and they would sell tons of products, recruit a team of 30, who all recruited a team of 30, and that they would be at the top of their company by tea time?
I think we all know by now that it doesn't work like this!
The uncomfortable truth in the matter is that you need to be prepared to TALK to people and make new friends.
You need to be willing to make new friends to grow your business!
You need to be willing to open up your Facebook and your other social media to strangers and people that you may meet on the bus.
There are ways to select who sees what on your Facebook which is fab as it means you get to keep your friends by not alienating them with company posts and the people who are interested in your business get to see just what you want them too. Comment below I AM SELECTIVE and I can send you a link to my own free training on how to do this.
You are going to need to step out of any comfort zone that you may have and TALK to people daily. These people can be people that you meet at planned events or just people in the queue around you whilst you are in the supermarket. But you need to TALK to people to expand your circle.
Do you notice how I put TALK in capitals and also I call it a CIRCLE and not a LIST?
Talking, yes actually talking, not hiding behind a phone or keyboard. Face 2 Face really does increase your chances of success.
How many times have you heard the phrase "people buy/join people"? Well, it's true, so get over it!
In network marketing and building any business whether it's homemade cupcakes or a printing service customers will return for good service and customers will refer customers.
Not everyone you TALK to will become a customer but you never know who they know that might become a customer. So growing your CIRCLE is essential. You are not making a LIST in the business sense in that you are just going to puke an email or message to them weekly but you are going to build a RELATIONSHIP with them. Let THEM come to YOU to ask about your products or what it is that you do!
Now you will probably take me to task over that last sentence and draw me back to the opening paragraph. But networking is networking. Talking to people and building a relationship with them. If you can build a relationship then people will be curious about what it is that you do and whether the products that you HINT about could help them too.
So talk to people, grow your circle and build a relationship with them. If you do this consistently and with purpose then your business will grow.
Don't forget if you would like the free training on creating Facebook lists please comment I AM SELECTIVE below and I will send you the link.
If you found this post helpful please let me know in the comments below and please feel free to share this post with anyone that may benefit from reading this post or the training.
If you would like to join my Facebook group where I share tips on using social media to grow your networking or affiliate business then please click here and request to join  I look forward to welcoming you into the group.