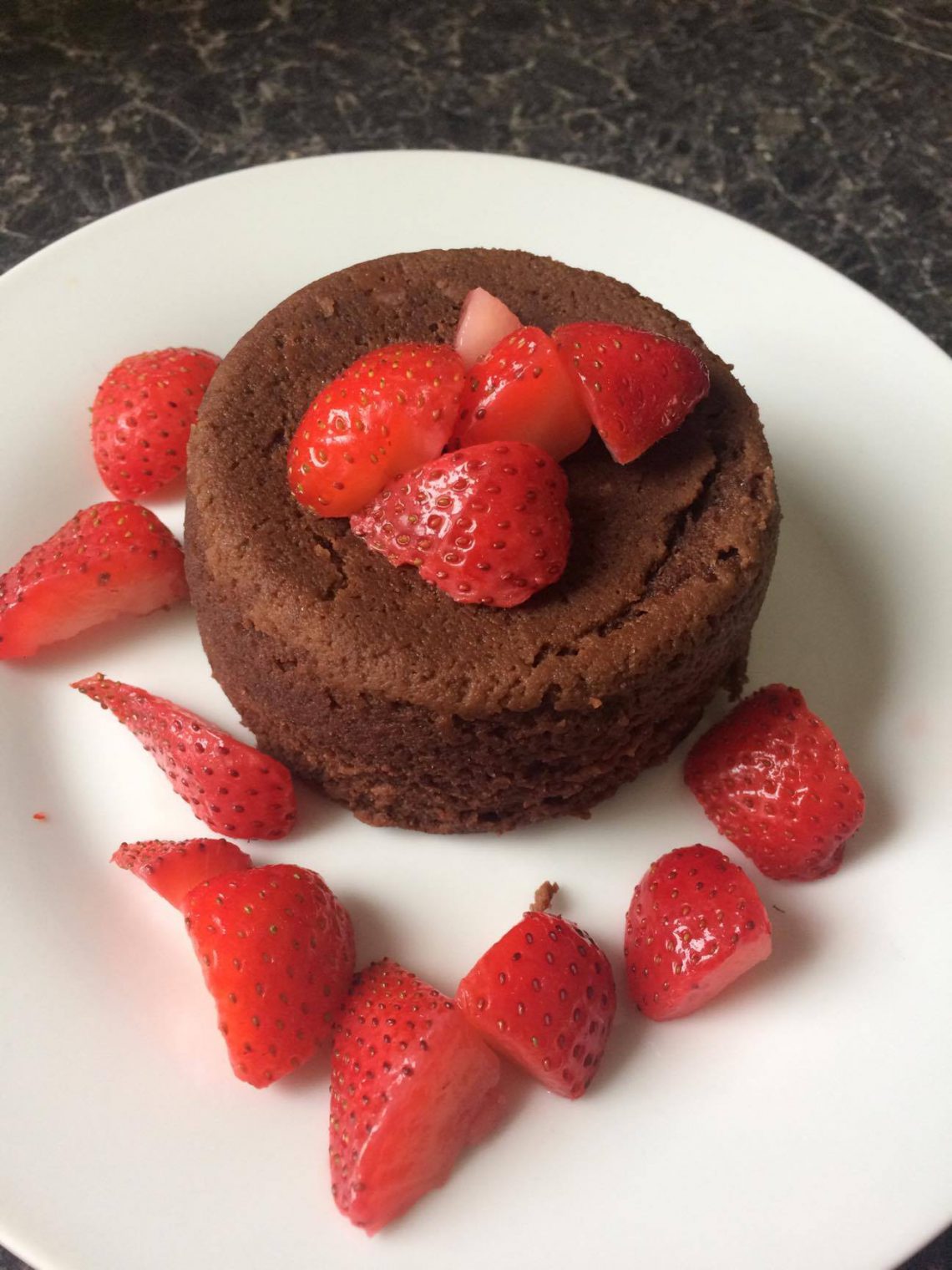 Gluten Free Chocolate Mug Cake
Low-Calorie Gluten Free Chocolate Mug Cake
When I first discovered this low calorie, gluten free chocolate mug cake recipe I was so excited.  I really never thought that all those words would ever be put together in one sentence!
Using coconut flour we cut out the gluten element and the cacao powder cuts down the calories of using a hot chocolate powder or real chocolate.  Now if you're not used to cooking with coconut flour you might find it can be a little thirsty on the liquids. If this happens and the batter is a little thick then add a couple more drops of milk. I do mean drops not splashes.  The coconut flour has a slightly denser texture to it over regular flour.  This isn't a light fluffy sponge, it is a heavier pudding.
I have a special Starbucks mug that I use for mug cakes. It is huge and you can really mix the batter well.  It also allows plenty of space for a cake to rise and fall.  You can use a small bowl if your mugs are small or even a measuring jug is fine for the job.  I wouldn't be tempted to double the quantity so stick to multiple mug cakes rather than one bigger one.
Ingredients
2 tablespoons coconut flour
1 tablespoon cocoa powder
1/8 teaspoon baking powder
1/8 teaspoon baking soda
1 tablespoon maple syrup or agave nectar
1 egg white
1/4 cup unsweetened coconut or almond milk
Method
Place the dry ingredients in the mug that you are cooking it in. Place the wet ingredients in another mug or jug.
Whisk the wet ingredients until light and frothy as per the picture ==>>
Stir the dry ingredients until well combined.
Pour the wet ingredients into the dry and whisk until completely combined together.  You should have a medium consistency batter.
Clean the inside of the mug down with a plastic scraper.
Microwave on high for between 1.30 – 2 minutes.  The cake will rise whilst cooking and fall and shrink away from the sides of the mug a little.  You can see this here in the picture.  The cake may appear to be a little "wet" but this is the nature of the coconut flour and microwaving it.  As long as the cake is springy to the touch on top and a knife comes out clean then you know it is cooked.
I like to tip the cake out and eat with fruit although you could add a scoop of ice cream to the mug and just jump straight in with a spoon.
Calories 150 per serving.
Please click here for your free printer friendly recipe card
The calorie content of this treat was calculated using MyFitnessPal and is only a guideline. If you are following a strict calorie controlled diet please weigh and calculate the exact calories as you prep and cook.
Please pop back and let me know in the comments below if you enjoyed cooking this low-calorie gluten free chocolate mug cake or pop over to our Glama-Ma facebook group and share some pictures of your foodie creations in the chat.